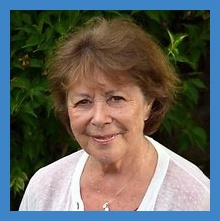 Maren Edridge
MBACP Registered Counsellor, MSc Psychological Counselling (Surrey), Certificate in Couples Work (Metanoia), Approved Adoption Counsellor (LINK/Barnardos), Diploma in the Theory and Practice of Supervision, Individual and Group (Roehampton).

I am a fully qualified and experienced therapeutic Counsellor and Supervisor. I have practised in the counselling profession for more than 25 years and am the founder of Guildford Counselling Resource Centre. I offer short or long term therapy to individuals and couples in a confidential, safe, comfortable and professional environment. I have considerable training and experience in working with, for example:- personal development including identity issues, depression, anxiety and stress, work related issues, bereavement and loss, abuse, including domestic abuse, victim support, relationship issues and therapeutic support to those in addiction recovery.

My training is in the field of Humanistic/Integrative thought and practice. I also have a good working knowledge of Cognitive Behavioural Therapy approaches and am fluent in Italian.

In working with a relational approach, I work with my clients to facilitate exploration and understanding of difficulties which may be troubling them and having a negative effect on their lives whether those difficulties be in the present or affected by the past. Our work is with a view to gaining increased insight and understanding and exploring options and choices which may offer coping strategies and help in finding ways of moving forward.

As a trained and experienced Couples Counsellor, I can draw on an integrated approach to relationship and relational work with the aim of meeting the needs of couples who seek help.

As a BARNARDOS trained and Approved Adoption Counsellor, I work with therapeutic issues in the fields of fostering and adoption. As well as any of the above, these issues may include:- infertility, IVF treatment, considering adoption, becoming an adoptive parent or foster carer, ongoing parenting and fostering concerns (including attachment issues), giving up children for adoption, being an adult adopted person and placement disruptions. I can also offer therapeutic support through tracing, contact arrangements and reunions.

I am a trained and experienced Integrative/Relational Supervisor with more than 20 years supervision experience. I am able to offer supervision to:- trainees on approved courses, experienced practitioners including those working with couples and to those in related professions where supervision is a requirement or may be sought personally. This can take the form of individual or group supervision.


---
Sue Stephenson
UKCP Registered Integrative Psychotherapist; MBACP (Snr. Accred.) Registered Counsellor; MSc. in Counselling and Psychotherapy; Diploma in Individual and Group Supervision.
BUPA Recognised Provider of Counselling and Psychotherapy

I am an experienced Integrative Psychotherapist, Counsellor and Supervisor offering both short term and open ended counselling and psychotherapy to clients on a weekly basis. I am fully accredited with both the UKCP and BACP and I am also a BUPA recognised provider of counselling and psychotherapy services.

Talking with a professional counsellor, who you feel listens and understands, can help you to make more sense of life's difficulties, painful experiences and emotional stress. Through this experience, where thoughts and feelings have time and space to be explored, choices can become clearer and new ways of relating to yourself and others can develop.

My clinical practice reflects my training in the main research and evidence based psychotherapeutic approaches (Cognitive Behavioural Therapy, Psychodynamic and Person Centred Therapy) which I draw on as appropriate in my relational work with clients.

I work in both the private and public sectors, including the NHS Talking Therapies services, with clients presenting with a range of difficulties including, for example, depression, stress, anxiety, panic attacks, loss, self harm, relationship and/or work related problems and eating disorders. One of my specialist areas is working with adults who in their childhood have lost a parent through either death or divorce.

I am a qualified Supervisor of individuals and groups, working with qualified psychotherapists and counsellors as well as students in training.

I was a Visiting Lecturer at Roehampton University for nine years where I trained student counsellors in evidence based psychotherapeutic approaches.


---
Dawn Urbanowna
MBACP Registered Counsellor, BA (Hons) Integrative Counselling and Psychotherapy (Southampton), Advanced Diploma in Humanistic Counselling, Certificate in Supervision (Surrey Counselling Training).

Hallo and welcome to my personal profile; thank you for taking the time to read it.

I know how daunting and difficult it is to choose a particular therapist; the only help I can offer you with this decision is to describe my experience as a Counsellor, Psychotherapist and Supervisor.

As my colleagues have explained in their profiles, I too have a great deal of experience working with clients one to one and with couples who are being challenged by issues that limit their ability to enjoy their life.

In addition to all the concerns listed on our About Us page that may prompt you to consider seeking counselling, I also have specialist skills, honed over many years of working for organisations that specifically support survivors of domestic violence and adults who have experienced childhood sexual and physical abuse. I have also worked with survivors of adult rape.

Another specialism is that I have supported clients who are battling alcohol, drug, gambling, pornography and sex/love addictions, also eating disorders and co-dependency. I also support the family members who suffer alongside them.

Thank you for reading my profile, I hope it has helped you to choose.